Combine the agile methodologies flexibility and agility with PRINCE®s sharply defined limits
PRINCE2 Agile was launched in June 2015 and is the newest in project management methods. It is one of the world's most complete project management methods and combines agile methods -flexibility and agility with PRINCE2®s sharply defined framework.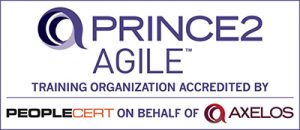 Mentorix is an Accredited Training Organization (ATO) under Peoplecert. PRINCE2 Agile® is a registered trade mark of AXELOS Limited, used under permission of AXELOS Limited. All rights reserved.
Course goals
The course gives you the skills to embed PRINCE2 or agile methods, so they benefit from each other and thus gives more successful projects.
Audience
The course is intended for modern organizations and individuals in both the private and public sectors, which are already applying PRINCE2®.
Requirements
You can take your PRINCE2 Agile certification once you have passed your PRINCE2 Foundation.
Online tutorials
The course is a self-study via video-based e-learning. You can stream your lessons where you want, when you want and at your own pace. The combination of videos, quizzes, tests and exams supplementary material gives you a good support both during and after the course. You will also receive the official PRINCE2 Agile manual.
Language
Both e-learning, course materials, and exams are in English.
When can you get started?

Upon registration you will receive an e-learning license that is active for 12 months, which means that you have access to the learning material before and after the exam.
When you are ready to take the exam, send an email to kursus@mentorix.dk with the following information:
Name

Email

What certification and language do you wish (eg PRINCE2 Foundation - DK)

Other

- for example request extra due to dyslexia
You will receive an email from kursus@mentorix.dk within 2 working days and then an email from the examiner, PeopleCert, who will guide you further. NOTE! Mails from PeopleCert can land in spam or junk mail, so please check here.
Read about the exam. If you need a translation, feel free to contact us.
Extension of e-learning
You have access to e-learning for 12 months. If you need an extension, we require a payment of 1.250 DK Excl. VAT for 6 months extension. Contact Mentorix at kursus@mentorix.dk
 Outstanding e-learning courses
12 months online access for the specific course
The same accreditation as for a standard course
Entertaining training – videos, quizzes, test exam and great materials
Chat with other online students
Course material developed by experienced trainers
Value for Money